How Marco Lost Game 6 For The Golden Knights
As we head into Game 7 of the first round of the Stanley Cup Playoffs, I may have to take part of the blame for the Knights' Sunday loss. You see, I feel some responsibility because I wasn't watching the game in same place that I normally watch the game. It was Easter and I had family over and they were watching a movie, which meant that I had to watch the game on my phone and the result... a loss. Before you ask... Yes, I am in therapy.
Superstitions in sports aren't new. Some fans make sure that they have a lucky item with them whenever an important game comes around. Some fans claim that the meal they eat on game day can change the outcome of the game later that day and I know people who won't leave the same spot on the couch for the entirety of the game, which really would have been tough on Sunday considering it went into overtime... twice!  
For me, not only do I believe that the TV and my Golden Knights hat have something to do with the Knights winning, but I also believe that odd numbers have something to do with it. This is about to get complicated, but please pay attention because moving on to the second round is at stake here. I'm not talking about odd numbers on the scoreboard, but by how many fans are engaged in their superstitious behavior. So, if Jane is wearing her lucky hat and Bob is grilling his lucky burgers, they will cancel each other out unless I am wearing my lucky hat. But if in the middle of the game, Dan decides to get his lucky penny, we either need for Wendy to get to her lucky spot on the couch or I need to take my hat off. It's a lot of pressure, I know but my hat comes on and off quite a bit during the game. At the time of the winning goal on Sunday, I had my hat on. I had put it on just before the Knights went on a power play, so I'm not sure who is at fault here, but I had I known that someone had messed up the order of the universe I would have taken my hat off. A mistake like that in overtime can have disastrous results.
I propose this system for game seven: Start the game with whatever lucky activity you do. Stick with it throughout the game and I will have the responsibility of taking my hat on or off depending on how things are going. That way we don't have someone jumping in at the last minute, screwing up the science of good luck and a game seven victory for our Golden Knights.
Photo: Getty Images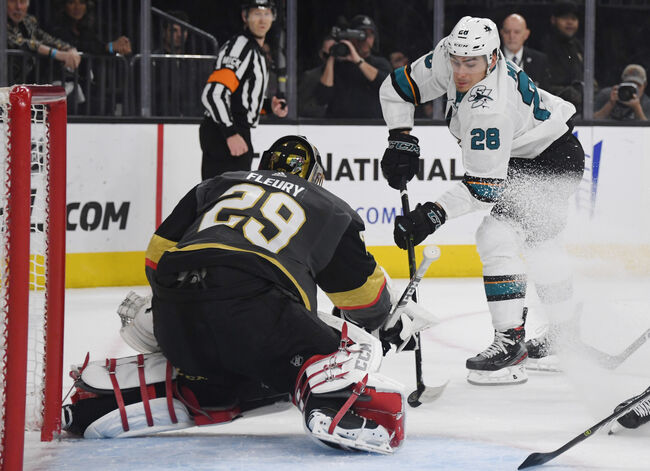 Sunny 106.5 Morning Show
Want to know more about the Sunny 106.5 Morning Show? Get the official bio, social pages & articles!
Read more