Bridezilla Demands All Bridesmaids Be The Same Height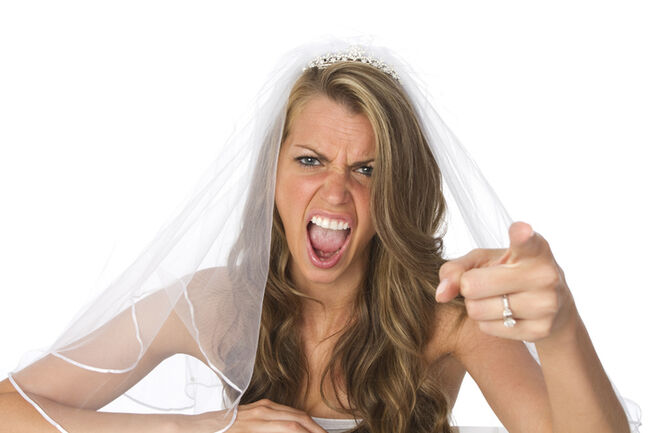 We can understand that brides want all their bridesmaids in the same dress, and maybe even have them all with similar hairstyles and accessories, but one bride went to a bit of an extreme to make sure everyone in her bridal party looked exactly the same.
A woman recently took to Reddit to share that her friend was in a seven person bridal party where the bride was demanding the entire bridal party be the same height.
First the 5-foot-11-inch tall bride demanded no member be taller than her, despite a bridesmaid who is already 5-foot 10, meaning she'd have to basically wear flats.
Then she changed her mind and said everyone had to be the same height, meaning they'd have to be five-foot-10-and-a-half to match the tall bridesmaid and her half-inch heels.
Sure, wearing the right heel can accomplish this, but the problem is one of the bridesmaids is only 5-foot-3, which means she would have to wear 7-and-a-half inch heels to match up.
Then the bride got angry again, because, according to the poster, she "hates all the shoes that the bridesmaid has found that are 7-inches tall," noting, "they look like hooker shoes."
The bride then told her bridesmaids "they were ruining her day and that one of them had to drop out of the wedding party," noting, "she would let them decide which of them were a real friend to her and which of them was a fake friend."
Of course, folks on Reddit had some choice words for the demanding bridezilla, with one person noting, "Best solution... all of the bridesmaids drop out of the wedding party."
Meanwhile, another added, "Yeah, real friends don't ask you to stand up in 7" platforms for at least an hour." In the end the bride wound up losing two bridesmaids.
The original poster says not only did the tall bridesmaid drop out, but the short bridesmaid got kicked out. And they are both probably happier for it.

Marco
Want to know more about Marco? Get his official bio, social pages & articles!
Read more